SEO – What is it and how to use it?
01. SEO – What is it and how to use it?
SEO stands for "Search Engine Optimization". This means that you improve your website, in order to get higher rankings in search engines like Google. You can use SEO to increase the popularity of your website in search engines and therefore increase the number of visitors to your website. This also means more potential customers and higher sales volumes. SEO can help you achieve that.
Search engines like Google rank the websites they show in their search results. These websites are related to the search "terms" people use. The more relevant a search engine thinks your website is, the higher your website will show up in the search result list. A common mistake it is that SEO is all about getting a high position within these results. This is indeed important, but getting a lot of non relevant visitors to your website doesn't add any value to your business. In other words, you need quality visitors! For example, if you sell cars, you do not want a lot of visitors looking for a motorcycle on your website. These visitors would hardly bring in any sales. With the right use of SEO, your website will receive a high ranking from search terms relevant to your business.
Step 1 – Keyword Research
During this step you will determine which search terms are relevant for your website. A search term is relevant if it is used often by your customer target group and is has a high conversion rate. They main question is: Which terms do people often use within search engines to find the products that your company offers? These search terms are called keywords and are relevant to your company. The Google Keyword Planner makes it easy to find relevant keyword. In the example below we will show an overview of relevant keywords for DJ mixes.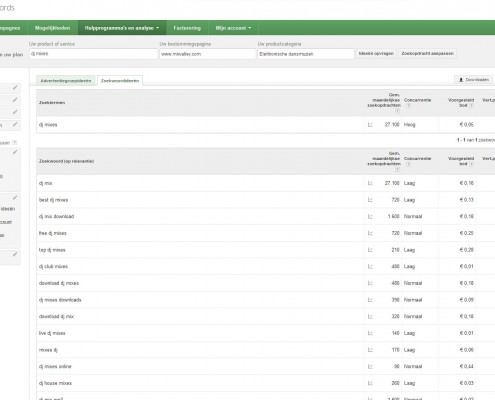 Try out this handy tool here.
Step 2 – Using effective techniques
After collecting the relevant keywords, it is time to look into the more technical part of SEO. Do your pages link to each other within your website? For example, is there a link from your product page to your contact page which shows your opening hours? And does this link use the right keywords? A good text for this would look like: You can contact us during the following business hours. Business hours would be the right keyword.
Google also shows the URL of a web page within its search results. Are the URL's of your website easily readable? A good URL doesn't use weird characters which only confuse visitors and therefore reduce the usability of your website. A bad URL would look like: www.mywebsite.com/?pageid=123&source=abc'. A good URL for a contact page would look like this: www.mywebsite.com/contact. These are a few basic rules regarding the SEO of your website, the next step is to optimize the actual code of your website. Make sure your website builder pays attention to the SEO optimization of your website. Want to boost your website by using our marketing services? Check out our marketing product & services.
Step 3 – Optimizing content
When your website is technically finished, think carefully about the text you add to it. It is important to write relevant content for your website. The more quality content focused on the right keywords will bring in more visitors from search engines. Inserting keywords correctly within titles, subheadings and content makes your website more visible within Google. When you look at the keywords above from the www.mixvalley.com example, you see that it would be good for this website to add content about DJ mixes and downloading DJ mixes.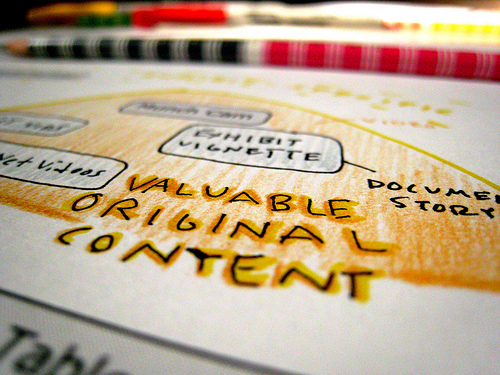 Step 4 – Link building
Another way to increase your position within the search results is having other websites link to yours. Google thinks your website is more relevant and important, when others link to it. You can see this links as recommendations, the more you get them, the more important you are. However, search engines don't only look to the number of recommendations, they also look for the context of it. Is the linking website using relevant topics? Are the links part of the text or just advertising? It would be good if for example DJ producers would link the www.mixvalley.com as a trusted publishing partner.

Conclusion
As you can see, SEO is mostly about relevance and honesty. Not only do the URL's, links and subheadings have to match your keywords, they also need to match the content of your website. Search engines are getting more and more advanced with their techniques to order analyze webpages, which improves the search results. In the end, their ultimate goal is to only show the websites we actually need.
By: Mark Wolkenfelt
Typically dispensary can provide to customers with genuine treatments for sundry health problems. All discount remedies save money, but best online pharmacies offer better deals than other online pharmacies. Do you know what Viagra is? Viagra is a remedy prescribed to treat few maladies. What do you know about "generic cialis online"? Did somebody tell you about "cialis online pharmacy"? Also, consider "buy generic cialis online". Perhaps you already heard some about the matter. One way to improve sexual disfunction is to make certain common lifestyle changes, another is treatment. Lack of sleep may be the culprit that decreases sex drive. Talk to your pharmacist about the proper deletion of your cure.